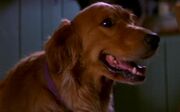 Cherokee
 was 
Sidney Prescott
's pet dog.
Cherokee is not the only dog to appear in a Scream film. In Scream 2, a dog is leg by a co-ed in front of the crowd that goes to investigate after news of CiCi's murder, and the dog is none other than Liev Schreiber's own.
Now somewhat of an agoraphobic, Sidney Prescott moved away from civilization, secluded in a heavily guarded home in the woods of Northern California, working for a crisis call center during the year 2000. Taking Cherokee for a walk was one of the tasks that Sidney did involving the outdoors during this time. She did this every day before work.
Cherokee passed away by the time of Scream 4.
Appeared In