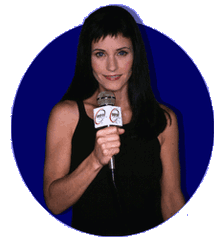 Hi everyone! This is Gale Weathers, reporting live from your very own computer. If this is your first time logging on, have no fear: you will not be disappointed. My new personal web page has an advice column, interviews,my book club, and everything you've ever wanted to know about yours truly! Plus the hard-hitting journalism you have come to expect from a future Pulitzer-Prize winner. Before long, you will all be asking: "Oprah who?"
Interviews
Interview With Stab 3 Director Roman Bridger
ROMAN BRIDGER is the most recent of a crop of acclaimed music video directors to make the jump to feature films. Following the likes of David Fincher, Spike Jonze, Hype Williams, and others, Roman will bow with the latest segment in Sunrise Studios Stab series. Stab 3 promises to be a tour de force ride into horror with Mr. Bridger at the helm. Because of his cult following on MTV, many feel that Roman defines hip, cool and edgy within the wonderful world of popular culture. Whether putting rapper Eminime in a polar bear suit on a New York City street or dropping Jewel into the Sahara desert, this director is always breaking trends and cutting edges. I sat down with the flirtatious Mr. Bridger in his suite at the Beverly Hills Meridian to talk to him about styles, love, and, of course, Stab 3.
G: Well, Roman, you are hot, hot, hot!
RB: That's very nice, Gale, thank you. (Pause) You're not so bad yourself.
G: Total Entertainment is running strong and I just had a make over with relaxation queen Annie DiNewsee. Enough about me, tell us how Stab came about for you.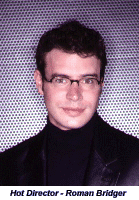 RB: Well, my agent, Beverly Choi, is good friends with super producer John Milton and she heard that he was looking for someone fresh to direct this picture. Beverly sold him on me with my reel and he, in turn, sold Sunrise on my skills. It's just been a whirlwind to be honest with you.
G: How is your vision going to vary from Jerry Rapp's vision of the trilogy?
RB: First, let me say that no one will be able to replace or one-up Jerry. I grew up on him and he is the king of horror. I'm just glad that I have the honor of following in his footsteps. It's really such a shame that we can't communicate about Stab 3 because I'd love to hear his input on the flick. In terms of me, I feel that I bring urban smarts and cutting edge energy to all of my projects. I think that overall my kinetic camera work will really add to the series. I'm looking forward to putting my fingerprint on the picture.
G: That sounds so exciting... What's going on in your love life right now?
RB: Nothing serious. I'm casually dating a couple ladies at the moment. You know, Gale, I'm really saving myself for you.
G: I try not to date directors, too many casting couch temptations. Seriously though, give me the dish onStab 3. Who's slated to star in it?
RB: Gale, I wish I could say, but Master Milton has sworn all of us to secrecy on everything. I will only say that the script gives the film the shot to be the best one yet.
G: Tell me about the projects that you have lined up after this film?
RB: I have a two-picture deal with Sunrise so I'm hoping to get my Hip-Hop musical Calling All Homies off the ground there. It's actually a wonderful story about a down on his luck plumber who finds his shinning star in the rap game. It was written by my personal favorite rapper O'Sell'Ya.
G: Sounds phat, Roman.
RB: Oh, it's really phat. Then, I have a comedy in the works for Def Jam that will star Def Jef and, hopefully, SHAQ. I can only say that it's the Karate Kid of the hip-hop genre.
G: Any other music videos to look for?
RB: A sexy gem for Jennifer Lopez. She is so hot! Her fans will love it. Then, I'm kinda' hoping you'll make the transition to the mic, Gale. I could do your video. You'd be a real pleasure to work with.
G: You're reading my mind, director boy. I was just thinking that Gale Weathers could use a record. Maybe a pop album will be my next venture. It'd be a sure fire hit with you doing the first video.
RB: We'd be quite a duo.
G: Don't get too far ahead of yourself, Sonny.
Interview With Dusty Penn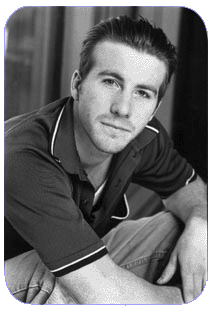 DUSTY PENN, star of Stab 2 , There's Something About Carrie, and the upcoming Gleason's: Life on The Rope, 25, is at Jersey as a Truck stop restaurant.He is a Newark born, public school-educated, Los Angeles-dwelling, American pie-wholesome heartthrob. So, why does everyone think he's a such a rebel? Maybe they don't trust his cute demeanor. Perhaps his rumored wayward lifestyle enters minds. Or, maybe, just maybe, he seems too good to be true. I sat down with him last week to get to the bottom of the rumors.
G: What have you been working on?
DP I just finished a great little picture with a really cool director named Daze Hollander. It's called Mosquitoes Take Manhattan. All my fans are gonna' love it. I play a New York Transit worker who gets stuck on a train with Erica Clive's character during a huge Mosquito invasion in the Big Apple. I join forces with Tom Prinze to battle the insects and try to restore safety to the city. I just saw a rough cut at Daze's place, it's a really rad flick!
G: What was the last dream that you had?
DP: One of those naked panic dreams you get in high school. I dreamt that I was on set with Daze and Amanda (Oxens) and we were doing a serious scene where I tell Amanda that I have cancer. Only thing is, I realize half-way through the scene that I forgot to put on clothes. I look around and the whole crew is laughing and pointing. It was really embarrassing until I finally woke up and realized it was just a nightmare.
G: How many times have you been in love?
DP: Once, Twice, Three Times a Lady... many!
G: Are you in love right now?
DP: Oh, yeah. I'm seeing a great woman - her name's Lynn McKay. She's beautiful, she's fantastic and I think she could be a great actress if she wanted. I met her when I was filming the final scenes of Mosquitoes Take Manhattan on the Sunrise Studios set - she works there!
G: Have you ever had your heart broken?
DP: More times that I can ever count on my fingers and toes. I once had a lady leave me for another girl and that was a tough one to swallow. Oh, man, I can't believe I just told you that.
G: I'm good! Who was the most impressive person you ever met?
DP: Definitely Sidney Prescott. When I was prepping Stab 2, I went out with Tori (Spelling) to Sid's college in Cincinnati to go over some of the emotions that she had experienced in her ordeal. I found her to be so real and honest. I mean I don't know how she remains so calm and collected after all the tragedy that she's encountered over her lifetime. Sidney was not only a great source of material for the film, but she was a wonderful inspiration to me.
G: Yeah, Ms. Prescott is a very interesting, independent young woman. So, what was the biggest practical joke you have ever pulled on someone?
DP: In high school, me and a bunch of homies got together and stole a key to the main office. It was one of those offices that's on the second floor and there's only two sets of staircases to get there. We filled Dixie Cups with water and lined all the stairs on both sides with them. That way, no one could walk up the stairs until someone got rid of at least half the cups of water. The teachers found it early and took care of the problem before first bell. We were peeved 'cause we thought that we could halt school, but it didn't work. Oh, well. There was a big investigation about who did it, but no one fessed up. I guess they know now.
Interview With Will Kennison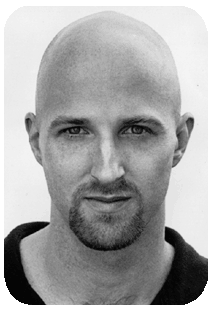 WILL KENNISON, writer of Stab 2 , Stab, Real Estate Agent of Death, and the upcoming films Stab 3 and The Legend of Slim Carter, is the flavor of the moment in Los Angeles and he knows it. Whether seen dining at the most exclusive and hip restaurants in town or cruising Sunset in his convertible Mercedes, Will is always on show for his many adoring fans. Many see him as an omni-present anomaly, but I am determined to get to the bottom of what makes him tick. I recently caught up with him while eating with his rumored sweetheart, actress Amanda Oxens, at Kate Mantilli's in Beverly Hills (not my first choice) to get at his core and to grab the scope on his upcoming projects.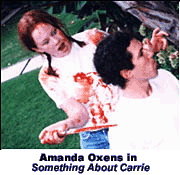 G: Will, hi. It's Gale Weathers from Total Entertainment. WK: Oh God.
G: Hi, Amanda.
A: Oh, it's you...
G: Will, a few words on your upcoming projects?
WK: What are you doing?
G: Your fans want the inside on your new work. What's happening with Stab 3?
WK: You have nothing to do with my fans, Gale. Call my manager if you want an interview, we'll see if we can fit you in somewhere. G: Grow up, Will. I've heard that Dusty Penn wants to be in Stab 3, will you have Derek return from the dead in this one?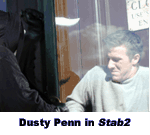 WK: Gale, really, I'm trying to eat here. G: With no real events, or book mind you, to base your script on, how will you craft this one?
WK: Listen, I'm not asking you again. Please step away from the table. G: Oh, Will. How's it working with Sunrise Studios again after you lost that huge legal battle against them on the contract dispute over The Legend of Slim Carter? You must really have some strong contempt for the company.
WK: I have no comment on that, especially to you.
A: Walk away, Gale. G: How's rehab, darling?
Amanda stands up from the table, spilling her fruity cocktail.
A: You want to say that again, bitch?
G: It's too bad you lost out on being the third angel in the Charlie's Angels film, must not have been good looking enough with all that acne from the drugs, hun. I heard there's a part available to play a hideous creature in the upcoming horror film, I Married A Teenage Acne Queen.
A: Up yours.
Amanda throws a punch, landing one square on my eye! Will grabs his date.
G: You'll be hearing from my lawyer, darling.
WK: Get out of here.
G: You're washed up, you cradle robber.
Total Entertainment
As you all know, I am now the new anchor for "Total Entertainment", the future hit show on the Hollywood TV Network, a channel dedicated entirely to Hollywood stars and their lives. This upcoming season I plan to raise the stakes, with more hard-hitting, in-your-face exposes to get to the real nitty gritty behind the slick facade of Tinseltown. Whether I'm defending helpless teens from knife-weilding serial killers or rummaging through O.J. Simpson's trash, reporting is my life and the search for the truth is my passion.

The winter season is shaping up to be very exciting at "Total Entertainment", with several special reports, including:
The prison lives of former child celebrities.
An entire week dedicated to "outing" gay celebrities.
Of course, no season finale would be complete without my favorite topic: Woodsboro. This past year I have been in contact with a top-secret anonymous author, whose upcoming book "Stabbed In The Back" promises to reveal the secrets to the curse on the Prescott Family and the truth behind the creators of the popular "Stab" movies, Sunrise Studios. Don't miss my interview with this mystery man on a special live webcast of "Total Entertainment" in January!
Ask Gale

1. Raw Red Meat - I know that this one sounds pretty yucky, but it really works. Besides, you know what I always say, "You've got to sacrifice to stay on top."
2. Sliced Cucumbers - I picked this one up from an old, wild starlet friend of mine, Danielle Rangler (she swears by it). I've found that a little lemon juice on the cucs really help the healing process. 3. Sun-Tan Machine - An obvious counter-balance choice, if you're a person who doesn't like to deal with issues directly. Just tan the rest of your face to match the blemish and you'll be golden.
4. MAC blush (skin-tone) - A great product! My favorite employees, Joan and Sue, at the MAC store in the Beverly Center can help you pick out the style and color that is best for your personal skin color.
5. Ice Pack - Old fashioned, but very reliable. I suggest alternating cold and hot packs on the eye for the first twenty-four hours after the punch (assuming this is how you got your black eye).
6. Aesop's Homeopathetic Eye Rub
- Tough to find this plant-based formula, but some really good health food stores (I love Bread & Circus) carry it. Just follow Aesop's directions on the back of the jar and, walla, the black eye is gone in less than two days.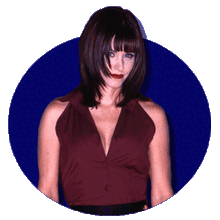 7. Mud
- This may seem odd and a bit gross, but it's my grandmother Lola's old recipe and it really helps your skin heal any blemish. I've been using it under Lola's watchful eye almost since birth.
8. Versace Eye Liner - Good for a small shiner. If you have a very small or easily hidden black eye, consider a little extra eye liner to shield the injury. I have to say that I'm so glad that Versace started producing make-up. Thanks, guys!
9. Face, Stockholm Facial Scrub - The genderless packaging of Face's Great Yellow Moisturizer and Facial Scrub is a great black eye tool that you can use regardless of sex. Boys will not be afraid to pick it up at a department store and it should be in any intelligent, successful girl's medicine cabinet. 10. Duck! - This is the only true tell way to avoid a black eye.

Gale, I am really interested in getting into both television and the entertainment business as a whole, but some people in my town say that my nose is a little too large for this type of career. Should I have some work done on my looks if I want to be as successful as you?
Cindy, Louisville, KY.

Cindy, while I have never had any surgery personally, I know a lot of gals in Hollywood who have and it has aided their careers immensely. If a nose job is the difference between success on camera or a mediocre life in Louisville, I'd say for my money, get the plastic surgery. If you can't find a good doctor down south, let me know, I might be able to point you in the right direction out in Los Angeles.

My boyfriend is moving in with me because his lease is up. Though I'm excited, and it makes sense from a money pov, I really desired to be engaged before we took this large step. Jimmy says that he's too busy with his new business to even think about rings and decisions right now. On top of it all, my parents and grandparents are less than thrilled with the idea of the two of us living together unwed. Gale, what would you suggest I do?  Angelica, Indianapolis, IN.

Sure, you'll save a little cash on the move-in, but at what larger cost? Your parents might be old fashionable, but if Jimmy's moving-in makes you feel uncomfortable, than think about helping him find his own place. Tell him about your expectations and your feelings about the next step in the relationship. This is a great chance to see if you two are on the same life page. If he can't address your needs, than you might want to think about where this relationship is really headed. Maybe, it has indeed run out of steam. If so, it's better to know now rather than down the road when he's leaving the toilet seat up in your place. Besides, you know what I always say, "It's better to be single and determined, than attached and without aspiration."

Ms Weathers, I haven't seen, or heard from Joey Lawrence, in awhile. He's such a talented young man both in front of the camera and behind the microphone. I've always been a huge fan and it would be great to know what he's up to lately.
Alvin, Selma, AL.

First off, call me Gale (Ms. Weathers is so formal for my fans). In answer to your question, Joey's career is alive and well. After his hit record and syndicated television work, he took a little time off from the business to focus on his personal life. After the brief hiatus, Joey returned to the small screen with roles in several successful television movies and a recurring position as the top left corner square in the immensely popular television show Hollywood Squares. Luckily for all his fans out there, Joey is back in the recording studio laying down tracks for a rap album (it should be fat!). Mr. Lawrence is also currently developing several feature films with his production company. One of these films,Runaway Alley. he plans to star in and direct.
Focus On Books
Wrongly Accused:The Maureen Prescott Murder 1995 
This gripping account of a real-life murder mystery and the ensuing trial held onto the top of the Bestseller list for nearly three weeks. Read about the tragic slaughter of Maureen Prescott and her daughter Sidney's vengeful mission to convict her mother's lover, Cotton Weary. Using the latest techniques of investigative journalism, Ms. Weathers' detailed book was a key tool in Mr. Weary's exoneration.
"Weathers' book is as thorough as she is attractive." - Rex Horton, New York Book Guardian.
The Woodsboro Murders
1996
Gale Weathers' second novel details the murderous plot of two angry teenagers determined to murder Sidney Prescott and her innocent friends. In a bizarre turn of events, the author herself became not only a target of the killers, but a hero. Ms. Weathers' book became the Sunrise Studios hit movie Stab.
"Ms. Weathers is the hurricane of investigative journalists." -Mary Marks, National Book Guide.
The Windsor College Murders
1997
Ms. Weathers is once again in the eye of a dangerous storm and emerges a hero. This time, murder follows Sidney Prescott to college, where Ms. Weathers is covering a story on the copycat murders of two students during a screening of the hit slasher film. Read how Gale singlehandedly brought the killers to justice in this exciting novel that became the hit movie
Stab 2
.
"Gale is the Wonder Woman of journalism! God bless her!" -Mark Anderson, Bible Belt Review of Books.
Spotlight On Gale
More About Gale
Birthsign: Scorpio
Parents: Storm and Nancy Weathers, both reporters.
Birthplace: A news van on the 1-9 freeway. Mom was in the middle of a story! They televised it. My first breath was on camera!
Hometown: Oakland, New Jersey
High School: Oakland Prep
Activities: Editor-In-Chief, "The Oak". Cheerleader.
Highlights: Investigative article on Mr. Wakowski (that jerk math teacher) exposed his questionable video tape rentals.
College: The Columbia School of Broadcasting, class of '91.
Favorite Sport: Hockey
Favorite Food: Salad (no dressing!)
Favorite TV show (all time): Murphy Brown
Favorite TV show (present): (Besides Total Entertainment, of course!) Ally McBeal, MTV's Celebrity Deathmatch, Cops.
Least Favorite Show: 60 Minutes II.
Favorite Movie: Broadcast News - Holly Hunter is one tough chick.
Least Favorite Movie: All The President's Men - what was that all about?
Favorite Color: Peach
Turn-ons: Watching The Emmys, catching someone in a lie, rough sex.
Turn-offs: Laziness, people who watch Hard Copy, Access Hollywood, Entertainment Tonight, and foreign films.
Favorite Book: Wrongly Accused: The Maureen Prescott Murder
Favorite Celebrity: Me, of course!
Least Favorite Celebrity: Geraldo
Favorite Outfit: My Soft-Touch bikini, made out of fleece.
GALE'S Y2K RESOLUTIONS
No More Miss Nice Guy: Last year, I noticed that every now and then, some jerk would cut me off on the freeway while I was rushing to grab the next headline. Usually, my response was to begin a full-scale investigative report into this guy's life, but lately, I don't even write down the license plate number! Worse, I've noticed that sometimes, a celebrity will answer my questions with "no comment" and I will just accept it! Well, that's all gonna change. I may have had a sunny disposition last year, but that does not mean I'm getting soft. Nobody can "control the Weathers." Nobody!
Double My Workout: Between you and me, I've noticed a little flab under my arms and on my thighs. Totally unacceptable. In a business where looks are almost everything, I'm not getting any younger. All the more reason to crank up the Stairmaster.
More "Me" Time: Last year, the Top Story van broke down on the 405 freeway and and was almost an hour late to pick me up. I used that time to write a letter to my mom and to call my credit card company about an erroneous charge. That one hour to myself was really satisfying! This year, I'm going to call in sick for half a day. Maybe I'll sleep in until 7:30 or walk my dog for the first time! (Don't tell my boss!)
Double The Danger: In 1999, I was punched fourteen times in the face, named in six lawsuits, arrested nine times, and ended up in the emergency room five times. That is just not acceptable! I usually end up in jail at least once a month, and my lawyer had way too much time on his hands. When did I become such a wuss? Y2Gail is going to bring back that "win at all costs", "take no prisoners" attitude that put me on top of the journalist heap.
Three Words: Emmy Emmy Emmy. I've waited long enough, and dammit, this is my year to stand on the stage and to thank myself for all the hard work I've done over the years. I don't care if I have to pull a "Tonya Harding" on Diane Sawyer, I'm getting that thing with the gold lady holding up the globe.
My Routine
5:00am
Rise & Shine
Wake up to NPR All Things Considered. My old mentor, Geraldo, always said that it's important to check out the competition, so I begin my day that way.
5:30am
Get Fit, Baby
I head to Speed Camp at my friend Jill Stover's aerobics studio, Stay Fit. In this class, we take turns fielding tennis balls that shoot across the floor in all directions and then we play with a medicine ball to build up our strength. I find that this type of workout really pays off out in the field where sometimes I must rely on physical skills to get a story (my books taught me this lesson). I also like Yoga.
6:30am
Put My Face On
I spend a half-hour after my workout getting made up. I believe that a proper appearance is one of the most important rules to a successful life.
7:15am
Roll Up The Sleeves
I arrive at my office and start writing text for upcoming stories.
8:30am
Check The Game Plan
I meet with my producer, Josh Levine, to go over the story of the day, the upcoming show and what we've got on tap for the rest of the week.
9:30am
Hit The Streets
My new cameraman, Mitch, and I hit the streets in the Total Entertainment van.
10:30am
In Their Face
I sit down and talk with the interview guest of the day. I gather backstory, write some quick copy, record an intro with Mitch, and then do the interview with our guest.
1:00pm
Scarf
Mitch and I throw down a quick, low-calorie meal. I like cottage cheese and diet cola! He eats a lot of red meat, but I order him some sort of lean chicken meal generally.
1:15pm
Sniff Around
I interview other notables to round out the story on the guest that we interviewed in the morning.
4:30pm
Beam me up, Scottie!
I return to home base. There, I check my messages, return calls, investigate upcoming show topics and go into makeup for today's show.
5:30pm
Lights, Camera, Action
I'm in the studio, recording today's Total Entertainment segment for air tonight. It usually takes my producers a day or so to put together our footage for a story, so we generally air the interview that we did two days ago.
6:30pm
Take A Deep Breath
Eat a snack, consult with my trainer and check out a rough edit of today's footage. Give notes on various segments to Josh.
7:00pm
Surf!
I check out the worldwide web, looking for stories, peeking in on the competition and drop in on my own site.
7:30pm
Pound The Pavement
Mitch and I are out in the van again. By now, the vehicle smells like Mitch's sweat and his hidden jelly donuts. We usually make a quick pit stop to get the van cleaned and grab a dinner interview with a Hollywood celebrity of choice for an upcoming show.
9:15pm
Get On The Horn
Mitch drops me at the office where I return calls and prep for my next work day. I also place follow up calls on some of the show's segments.
11:00pm
Weathers Channel
I check out my e-mail and look at my website again. I order sushi and replenish my protein.
11:45pm
Home Again, Home Again!
I grab a car service (Mitch is sleeping in a cubicle) home and feed my cats, Total and Emmy. I relax to some Indigo Girls on the CD player and soak my hair in plain yogurt (it gives it an extra shine, ladies). Afterwards, I hit the hay. Got to get my beauty sleep, kids!!
Rules For Success
If You Don't... Someone Else Will - Imagine you are walking down the street and see a ten-dollar bill lying on the sidewalk. What do you do? Keep walking? Look for the money's owner? Or keep it for yourself? In situations like this, it is helpful to remember Ms. Number One: You. Somebody is going to be ten dollars richer today, so why not you! It's called seizing the opportunity and as a reporter, we are often faced with situations like this all the time. If I don't film that famous movie star throwing up behind the Viper Room, somebody else will and then I've missed out. I would never be the star host of Total Entertainment today if I didn't follow this important rule. Appearances Are Everything - Success is a self-fulfilling prophecy- if you look successful, you'll be successful. Do you think the editor of got to the top wearing Prada or Contempo? And how many ugly people are successful in Hollywood besides Larry King and Harvey Weinstein? Answer: the big donut. Zero! Stay in shape, dress good, and spend a few extra dollars on good makeup and the best salons. Sleep is for the weak. - Somebody pretty smart once said: "There are no days off in life." So true! Sleep is the biggest waste of time. Cats spend 75% of their lives asleep, which may be why they have never accomplished anything beyond the litter box. Look at the daily habits of the most successful people and you'll see they almost never sleep. Yours truly gets about four hours a night, which is more than enough. Puff Daddy only dozes three hours a night, and even then he wears his telephone headset!
Be Ferociously Persistent - Another famous person, Virgil something or other, once told me: "Fortune favors the bold". In other words, you've got to go after what you want, no matter what the costs. Eliminate the word "quit" from your vocabulary, along with the words "guilt", "remorse", and "conscience". Some people might call a persistent person like you or me "annoying" but ignore them; they just haven't realized how important we are yet.
Black Eyes Go Away; Pulitzer Prizes Don't - People always ask me: "Gale, what's with all the fist-fights?" I always answer with the above motto. The world of news thrives on drama, and that means conflict. Part of any good story involves surprising, and confronting, the subject, often in a compromising situation. Generally, people don't respond well to a reporter jumping out of their bedroom closet or the trunk of their car, but it makes for great footage. And if I have to take a punch to serve public's "need to know", then that is a small price to pay for the truth.
Set Demanding Goals - If you want to climb Everest, do you practice on your front steps? Of course not. You find the highest mountain around and you hike until you pass out. You can get far in life if you just push yourself.
Never, Ever Say You're Sorry - Nothing sounds lamer than the words "I'm sorry". As soon as you apologize to someone, you have admitted fault and given them the upper hand. In my opinion, everyone apologizes too much. For instance, look at the British- every other word out of their mouths is "sorry" and look how pathetic they're country is. All they have left is a queen and a couple islands. I only say "sorry" when I mean it. Which is almost never. It wasn't my fault Amanda Oxens was an anorexic, so why should I apologize for reporting it?
Gale's List of Hero's and Fakes
| | | |
| --- | --- | --- |
| | Hero's | Fakers |
| #01 | Holly Hunter - Broadcast News, need I say more? | OJ Simpson - He never gave me the interview that he promised me when I visited him during the trial. I blame the Dream Team for that (they didn't like the bad review I gave them. |
| #02 | Deputy Dewey - Any man who takes a blade in the back for a lady like me has my attention! | Billy Loomis - Not to drag his name through the mud, but he could have at least granted me an interview before he came after me with a knife. |
| #03 | Candice Bergen - Smart, savvy, witty... Murphy Brown, enough said. | Jenny Jones - Could one woman steal more from me and not stop long enough to give me some credit? |
| #04 | Judge Judy - Doesn't take any nonsense (like a certain other powerful woman that I know... namely, me!). | Charlie Rose - I've got 3 books, many media awards, 2 movies, high ratings and yet, he still fills the airwaves with the likes Woodward and Bernstein. He's a faker until he puts me on his show, damn it! |
| #05 | Walter Cronkite - There were really no women in the news when I was growing up, so he was the next best thing. He is so uncompromising! Walter inspires me to want to get at the truth with every interview. | Oprah - Raids my Book of the Month Club and then takes credit when sales take off. Let's go toe to toe, sugar! |
| #06 | Indigo Girls - Love their sound, love their spunk! You ladies are invited back to Total Entertainment anytime, I loved your energy! | Geraldo - Taught me a lot during our one-on-one sessions, but after we failed to see eye to eye during OJ, he fell from my heroes ranks to the fakers. |
| #07 | Jane Pauly - An inspiration to any female newsperson. The way she held her own with Gumble was very impressive and very motivating. Way to be strong, Jane! | Maury Povich - No one watches, Maury! Hang it up, partner! |
| #08 | Barbara Walters - Gets in their face, but shows a humanity to her guests. She understands the ins and outs of drama. I'd love to interview her for Total Entertainment (hear that Baba?). | Monica Lewinsky - Should've given me the interview, lady. Your books, diet, fashions, and magazines are only getting the infamous Gale Weathers' expose over my dead body. |
| #09 | Norma Rae - Strong woman! Definitely understands Gale's Rules to Success. | Diane Sawyer - Number one reason why Total Entertainment is better than Sixty Minutes II, Gale Weathers kicks Diane Sawyer's a%$. |
| #10 | Geraldine Ferraro - She took on the boys and won in my book. Way to go, sister! | Larry King - ZZZZZZZ! Opps, caught myself snoring again, Lar! Hire me as an advisor, I'll toughen you up! |
Ad blocker interference detected!
Wikia is a free-to-use site that makes money from advertising. We have a modified experience for viewers using ad blockers

Wikia is not accessible if you've made further modifications. Remove the custom ad blocker rule(s) and the page will load as expected.