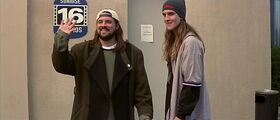 Jay and Silent Bob portrayed by Jason Mewes and Kevin Smith, respectively have a cameo appearance in Scream 3.
Scream 3
Jay and Silent Bob, popular characters from Kevin Smith's movies, appear as tourists visiting Sunrise Studios. Jay mistakes Gale Weathers for TV reporter, Connie Chung, and sarcastically asks her about Maury Povich.
In Scream, a VHS copy of their first film Clerks can be spotted in Stu Macher's house. Kevin Smith would later go on to include Wes Craven in a cameo as the director of a fictitious Scream 4 in Jay and Silent Bob Strike Back. In addition, a copy of Scream 3 can be seen in the background of a scene taking place within a video store in Smith's 2004 film Jersey Girl.
Ad blocker interference detected!
Wikia is a free-to-use site that makes money from advertising. We have a modified experience for viewers using ad blockers

Wikia is not accessible if you've made further modifications. Remove the custom ad blocker rule(s) and the page will load as expected.