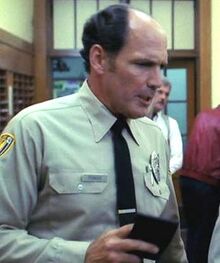 Joseph Whipp is an actor who portrays Sheriff Burke in Scream.
Life and Career
He was born on July 12, 1941. Joseph is currently 71 years old. He was 55 in Scream. Joseph also portrayed Sergeant Parker in A Nightmare on Elm Street, another film directed by Wes Craven. His star sign is Cancer, due to being born between June 21st and July 22nd.
Ad blocker interference detected!
Wikia is a free-to-use site that makes money from advertising. We have a modified experience for viewers using ad blockers

Wikia is not accessible if you've made further modifications. Remove the custom ad blocker rule(s) and the page will load as expected.