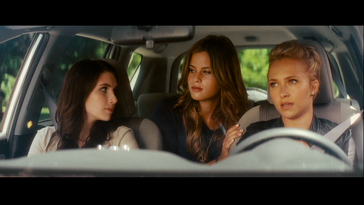 This is an article detailing
Jill's
clique, or circle of friends.
Scream 4
Kirby Reed and Jill Roberts are best friends who are part of a popular horror obsessed film group. The friendship and bond is similar to Sidney and Tatum's friendship from the original Scream. Like Tatum, Kirby is one of the popular kids who is sexy in a tomboy sort of way and has a wild party girl attitude while Jill is the shy and quiet one. Unlike Tatum and Sidney,  Kirby and Jill were close but not in a sisterly way.  Towards the end, Kirby is presumed dead after a psychotic and vengeful Charlie Walker stabs her and leaves Kirby dying, possibly succumbing to her injuries. It is revealed that Jill, the seemingly sweet and innocent heroine, is the evil mastermind of the Woodsboro Remake Killings and her pure motive was for fame and fortune and to alienate her cousin Sidney Prescott, the longtime survivor. Jill is eventually shot in the heart and killed by her cousin, Sidney Prescott. If Kirby survived, it is unknown whether she finds out about her best friend being a murderer.
Details
Intimacy level: Best friends (formerly)
Ad blocker interference detected!
Wikia is a free-to-use site that makes money from advertising. We have a modified experience for viewers using ad blockers

Wikia is not accessible if you've made further modifications. Remove the custom ad blocker rule(s) and the page will load as expected.