Detective Mark Kincaid assigned Gale Weathers to help him investigate the Stab 3 murders after Cotton Weary and Christine Hamilton were murdered in their apartment.
"The only thing I know about trilogies is that in the third one... all bets are off."
—Kincaid answering Sid's question.
Mark made his first appearance at a seminar at a high school to see reporter, author and Ghostface killing spree survivor, Gale Weathers. He pulled her aside, and explained to her that Cotton Weary had been murdered, as well as his girlfriend Christine Hamilton. The killer also left a photograph on one of the bodies. He hands it to Gale, where she identifies it as Maureen Prescott, Sidney Prescott's mother.
He is seen yet again, with his partner Detective Joshua Wallace at the studio set of Stab 3, however, him and his partner are only seen very briefly and Mark doesn't even have a line in the scene. They are only seen beginning to exit the studio lot when asked by one of the boards of executive managers whether Cotton's death may have been inspired by his involvement in Stab 3. His partner replies "He was making a movie called Stab. He was stabbed".
His next appearance also has Wallace present as well, where he is at the official crime scene of another Stab 3 cast member, Sarah Darling. He informs Gale that whoever the killer is, he's killing his victims in order of how their characters die in the script for the film, Stab 3. However, there were about three different rewrites and they don't have any clue which one the killer has and read.
He questions
Roman Bridger
, the director of the movie, about the death of Sarah and accuses him of calling her before Sarah's death, although Roman didn't say or do anything remotely about calling her. Distraught, him and his partner took him down for some more questions at the station; but later let him go when they discover that his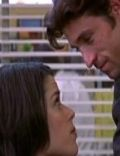 cellular phone record is clean.
After the murders of Jennifer Jolie 's bodyguard, Steven Stone and a another Stab 3 actor, Tom Prinze ,Mark investigates the discovery of another photo of Maureen Prescott from nearly thirty years ago, only with this one suggesting the Ghostface responsible for the Stab 3 murders was also involved in the murder of the first Ghostface victim, Maureen.
While at the station, Sidney goes to the police station to see her old friend Deputy Dewey Riley and meets Mark for the first time. Sidney informs Mark about the fact that the killer called her. He shows her the photographs of her mother, the killer leaves behind after every murder. While Sidney is at the police station, left solely with Mark. She asks him what he "knows about trilogies", he explains his knowledge of movie trilogies, but still leaving Sidney unsure if she can genuinely trust him.
During the final act, Mark follows Sidney to John Milton's mansion, where he quickly becomes aware of the kidnappings of Gale and Dewey and the murders of three more Stab 3 cast members, Angelina Tyler, Tyson Fox and Jennifer. He arrives just as the killer flees, rendering Sidney suspicious of Mark. But the real killer then appears from behind Sidney, but Mark manages to push her out of the way of the knife and, as a consequence for his actions, is stabbed in the chest and brutally wounded. He later hands Gale and Dewey one of his guns after they are freed. He later places his other gun in his hand and navigates the area before finding Sidney and a recently murdered John Milton in a hidden theatre room where he is knocked unconscious by a surprise attack from the killer, Roman Bridger, by a flying chair. He ultimately survives his injuries with assistance from the other remaining survivors. Sidney returns back to her life. Mark can be seen living near by Sidney, informing Sidney that he is putting on an unspecified horror movie to watch with her, Gale, and Dewey. 
Behind the Scenes
Edit
He was described as "mid-thirties. Handsome with piercing eyes" in the script.
Dempsey was offered to reprise his role as Det. Kincaid in Scream 4, but he denied due to his commitment to Transformers: The Dark of the Moon. Kincaid's character was then written out of the script.
The writers also, were going to expand on the relationship between Mark and Sidney if they brought him back for Scream 4, (example, they would be in a relationship together). However, since Patrick Dempsey didn't reprise his role as Mark, the relationship didn't go any further, and Sidney was single in Scream 4.