Randy Meeks
Portrayed by
Jamie Kennedy
Location
Woodsboro
Occupation
Film student
Family
Martha Meeks (sister)
Hair Colour
Dark Brown
Eye Colour
Blue (Scream, Scream 2) /Brown (Scream 3)

Status

Deceased

Stab actor
Dr. Quinn, Medicine Woman, background castmember
Scream
Appearance(s)
Scream 2
Scream 3
Randy Meeks was a horror film fanatic who had a crush on his good friend Sidney Prescott.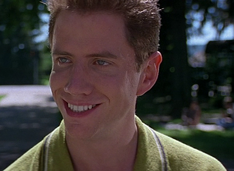 Though wounded, he survived the Woodsboro murders, but was a victim of the
Windsor College murders
at the hands of
Ghostface
while helping
Gale Weathers
and
Dewey Riley
search for the killer.
Biography
Randy Meeks was an excitable horror movie geek and Woodsboro High School student who worked at a local video store, even though he was fired and re-hired several times. He had a severe crush on his good friend Sidney Prescott, and hung out primarily with her, Billy Loomis, Stu Macher, and Tatum Riley. Randy also has a younger sister Martha Meeks. 
Scream
After Randy ate lunch with group of friends the day after Casey Becker and Steven Orth were murdered. He went to the School's water fountain and sat with Sidney, Billy, Tatum, and Stu. Then gossiped and joked about their deaths. He even suspected that Stu was the killer pointing out that Casey dumped Stu for Steve making Tatum confused because she thought that Stu dumped Casey for her. Stu defended himself saying "I didn't kill anybody". He went to work at the local video store the next day where he discussed the murders with Stu. He believed that Sidney's father Neil Prescott would pop up dead somewhere, and that Billy was the real killer. Billy confronted Randy and Stu took Billy's side and enjoyed watching Billy confront Randy in front of the other people in the store.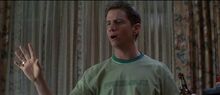 Randy managed to get out of work early due to the town curfew and went to Stu's party. He stays at the house even though all the other party guests have left to see their recently murdered
principal
's corpse. During the climax, he is shot by Billy and crashes through a table after Billy reveals that he's indeed the killer. After
Sidney
believes that it is all over, Randy suddenly wakes up, alive and well. He is then punched out by Billy, who was previously unconscious. After Billy is shot by
Gale Weathers
, Randy reveals that the killer always comes back to life for "one last scare." Indeed, his prediction was right, and Billy wakes up one last time before being shot in the head by Sidney.
Scream 2
After graduating Woodsboro High, Randy and Sidney both attended Windsor College, where he took film classes. He is seen with
Mickey Altieri
and
Cici Cooper
and several other unidentified students in the film class, having a debate over whether films could have been responsible for the murders of
Phil Stevens
and
Maureen Evans
, which later developed into a debate as to whether horror movie sequels are a good thing or a bad thing.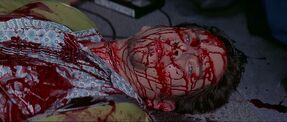 After the murder of Cici, he and Dewey Riley try to solve the case. While Gale and Dewey try to find the caller, Randy talks to Ghostface on the phone. Randy says that the new killer will never become as famous as Billy and Stu before going on to insult Stu first, then Billy. Ghostface drags Randy into a news van and throws him against the windshield before slitting his throat and stabbing him four times in the chest. Dewey and Gale stumble upon Randy's corpse the next moment. Later, it is revealed that the killer isMrs. Loomis, who tells Sidney that when she heard Randy insult her deceased son Billy on the phone, she "got a little knife happy".
Scream 3
Randy's sister,
Martha
, snuck onto the Stab 3 production and delivered a tape Randy made before his death. He foresaw the possibility of a third killing spree, so he warned the survivors (Sidney, Gale, and Dewey) of what to expect from a trilogy.
The original script revealed that Randy had survived and that his parents were secretly hiding him. However, this was cut from the final film, possibly because it was considered to be too unrealistic. It was unknown if Jamie Kennedy was set to reprise his role as Randy or not, as Randy appeared in the original script.
Behind the scenes
He was described as "a tall and gangly kid...A witty jokester who elevates geek to coolness" in the Scream script.
In Scream, Randy tells Jamie Lee Curtis to look behind her because there's a killer preparing to kill her. Ironically, Randy is played by Jamie Kennedy, and the killer is behind him, preparing to kill him at the same time.
Randy Meeks was originally going to be in Scream 3 as he would've survived his wounds and was kept hidden secretly by his parents, but was eventually cut from the film.
Fans were extremely upset when he was killed in Scream 2, so the producers found a way to bring Randy back in Scream 3 (as shown above).
Breckin Meyer was the second choice for Randy Meeks.
Randy was very genre savvy and knew what was going to come next. However, he was wrong when he said in his video tape recording that Sidney, Gale, or Dewey were likely to die in Scream 3. But he also mentioned this only happens at the end of horror movie trilogies.
Randy's role in the first film was similar to that of a red herring. Billy was set up as the obvious killer, so audiences assumed that he was too obvious to be the killer. Randy was then used as the audiences' prime suspect. The scene were Randy is shot by Billy reverses these roles.
Randy is most likely the most popular character in the saga.
Quotes
"If you were the only suspect in a senseless bloodbath...would you be standing in the horror section?"
"Now that Billy tried to mutilate her, do you think Sid would go out with me?"
"It's the millennium; motives are incidental."
"Never, ever, ever, under any circumstances say "I'll be right back." Cause you won't be back." Randy listing rule 3 of the survival roles.
"There's always some stupid bullshit reason to kill your girlfriend. That's the beauty of it all -- simplicity! Besides, if it gets too complicated, you lose your target audience."
"I cannot believe it; they get Tori Spelling to play Sid, and they cast Joe Blow nobody to play me! At least you get David Scwhimmer; I get the guy who drove the stagecoach for one episode of Dr. Quinn!"
"Oh, please! By definition alone, sequels are inferior films!"
"That's why it's perfect! It's sort of against the rules, but not really. Mrs. Voorhees was a terrific serial killer,




A vídeo of Ghostface killing Randy

and there's always room for Candyman's daughter. She's sweet, she's deadly, she's bad for your teeth!" To Dewey about the idea of female serial killers.
"I never thought I would be so happy to be a virgin!"
"See, the police are off track with this shit. If they'd watch Prom Night, they'd save time. There's a formula to it -- a very simple formula. Everyone's a suspect!"
"...And by giving up my virginity to Karen Kolcheck".
"Shut up. She's a sweet person, okay? We were working late putting away some videos in the porno section and ya know, shit happens."
"Oh, please. I'm the secret love slave of Sidney Prescott. I know all about obsession."
"Oh really? Was that before or after he sliced and diced?" to Stu Macher asking about where he was the night Casey Becker and Steven Orth where killed
"Stu Macher was a pussy-ass wet rag." To Mrs. Loomis moments before his death
"Did you really put her liver in the mailbox? Because I heard that they found her liver in the mailbox, next to her spleen and pancreas."
"You see, you push the laws and you end up dead, okay? I'll see you in the kitchen with a knife." To Stu after he says "I'll be right back", right after Randy warned the party-goers about saying that.