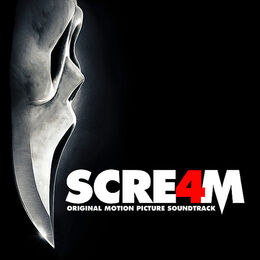 The original motion picture soundtrack for Scream 4 features various songs featured on the film. The album was released on April 12, 2011 by Lakeshore Records.
Track Listing
"Something to Die For" – The Sounds
"Bad Karma" – Ida Maria
"Cup of Coffee" – The Novocaines
"Make My Body" – The Chain Gang of 1974
"Don't Mess with the Original" – Marco Beltrami
"Yeah Yeah Yeah" – The Sounds
"Run For Your Life" – 6 Day Riot
"Axel F" – Raney Shockne
"On Fire" – Locksley
"Devils" – Say Hi
"Denial" – Stereo Black
"Jill's America" – Marco Beltrami
References
Ad blocker interference detected!
Wikia is a free-to-use site that makes money from advertising. We have a modified experience for viewers using ad blockers

Wikia is not accessible if you've made further modifications. Remove the custom ad blocker rule(s) and the page will load as expected.