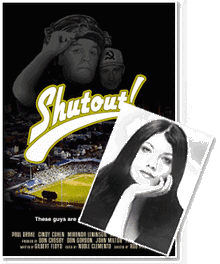 An insane business tycoon leads a gang of Russian terrorists in a plot to take an entire stadium hostage during the World Series.
Cast
Paul Drake as O'Neill
Cindy Cohen as Lucinda Gibson*
Miranda Levinson as Sue Gilbert
Kahlil Allen as Yuri the Terrorist
Chuck Cypher as Boris the Terrorist
David Jones as Stuart
Crew
Producers:
Associate Producer:
Director:
Writer:
Cinematographer:
Editor:
Controversy
June 14, 1972 Loretta Fisher the actress originally cast as Lucinda Gibson went missing from set.
All of her scenes had to be reshot.
Trivia
The film bombed at the box office.
*Previously played by Loretta Fisher.
Ad blocker interference detected!
Wikia is a free-to-use site that makes money from advertising. We have a modified experience for viewers using ad blockers

Wikia is not accessible if you've made further modifications. Remove the custom ad blocker rule(s) and the page will load as expected.