*Everything comes from the old promotional Scream 3 site, Sunrise Sucks."

Dear friends and enemies, If you are reading this, you must have already visited the new official website of sleaze-factory Sunrise Studios, "the world leader in cutting edge entertainment." Yeah, right. More like "the world leader in cutting corners, cutting cRifkiny movies, and cutting up people." That's right, I said "cutting up people." See, when the sun rises, it throws a shadow, and Sunrise Studios has one of the biggest and darkest shadows in all of Hollywood. Not only has Sunrise spent the last thirty years making millions of dollars exploiting desperate actors and degrading our culture, but they have also done a great job covering up their past. Until now.
This site is here to set the record straight about SunLies Studios. I have written a book, Stabbed In The Back: The Real Sunrise Story , which will be out soon, but this site will give you a taste of just how sour Sunrise Studios really is. Below you will find several chapters from the book exposing the Studios' darkest secrets.
Who am I? Unfortunately, I have to remain anonymous. The goons at Sunrise have heard of my book by now and, frankly, my life could be in very real danger. This site makes them real nervous, and once you read this site and my book, you'll understand why.
It's time for the sun to set on Sunrise Studios.
P.S. Keep an eye on galeweathers.com, where I will reveal more secrets very soon.
Chapter One: Why John Milton and Fred Rifkin Don't Get Along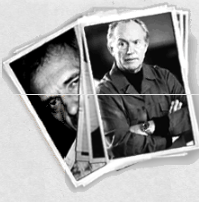 The Real Reason John Milton and Fred Rifkin Do Not Get Along
It's no secret in Tinseltown that producer John Milton and director Fred Rifkin do not get along. Their relationship has been a long, tenuous one. In my upcoming book Stabbed In The Back: The Real Sunrise Story, you will find the whole history of these two men well-documented. 
The duo has had a number of run-ins over the years, but none matched the one on set of Stab 2. It seems that years of head-to-head combat culminated with a big blow-out on location at Columbia College. John Milton, who was running with Harlan Kingsley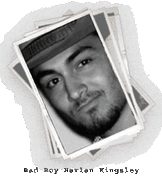 and bad-boy Michael Neithardt, known drug users, fell off the rehab wagon hard during the shoot. Deep into drugs, he daily showed up to set late and almost immediately launched into rantings on Rifkin's directorial decisions. Fred tried to ban his long-time collaborator from location, but a certain star (read Tori Spelling) got involved and strong-armed Sunrise head Don Crosby into assuring that longtime Spelling family friend Milton be there at all times. This infuriated Rifkin as the producer continued his meddling ways. The director's relationship with some of the actors soured and the film's cast was split into two camps. There was constant bickering between them. For instance, there w 
as a covered-up scuffle between Rifkin supporter Dusty Penn and Milton cohort Neithardt. The set was deep rooted with venomous anger. Rifkin couldn't take it. He was ready to explode. When Milton told him how to cover a scene with Tori and Dusty (who were not getting along at the time because of the rift), Fred flipped out and physically went after the producer. A set PA had to pull them apart. 
Milton swore revenge and Crosby, having had enough, banned the producer from the set for the rest of the show. Needless to say, Tori was unhappy and joined other
Milton supporters in making the rest of the shoot miserable for Rifkin. Tori, not wanting to rehash this incident, won't return for the third installment of Stab because of Milton and Rifkin's strained relationship.
More on the Rifkin and Milton later...
Chapter Two: New Dirt On Stab 2
New Dirt On Stab 2
Despite his participation as a spokesman in the "Just Say No" anti-drug campaign, Michael "Night Rider" Neithardt was spotted several times in the company of none other than the "king" of Hollywood bad boys, Harla n Kingsley. Dancers at "Slippers" adult nightclub say Neithardt and Kingsley often made late night visits to the club and were seen doing drugs between lap dances. The volatile duo were even known to pick random fights with tourists on Hollywood Boulevard, though police never managed to prove they were responsible for the assaults. were even known to pick random fights with tourists on Hollywood Boulevard, though police never managed to prove they were responsible for the assaults. More interesting is the fact that Harlin Kingsley, the illegitimate son of Mimi Patterson and the late Don Gordon, was making weekly visits to the Stab 2 set. "Kingsley was here all the time," said Janet McFadden, the assistant director. "What seemed weird to me, however, was how he always made a quick stop at (producer) John Milton's trailer on his way out." Kingsley has several counts of drug possession on his record and though Milton claims to be clean and sober, there is little doubt that Kingsley was his drug connection.
Below is a deposited check, discovered by my investigators, that shows that on January 24, 1998, John Milton paid Harlin Kingsley $2200 for "entertainment." On this same day, Kingsley's signature can be found on the register in the gate security office. You might also be interested to know that John Milton left early that day, complaining of "a migraine headache."
Chapter Three: The Real Reason Roman Bridger Got Hired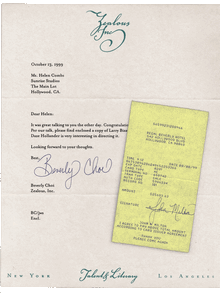 The Real Reason Roman Bridger Got Hired
Here's a tid-bit for all you Fred Rifkin fans out in cyberland. Roman Bridger, the director who replaced your beloved Rifkin on Stab 3, was hired solely because he is represented by super-agent Beverly Choi of Zealous, Inc. What is the significance of this? Well, it seems that Ms. Choi is sleeping with one John Milton, super-producer of Stab 3 and gaining client favors as a result. What a match made in power-couple heaven!
You ask for proof? Well, please check out a hotel receipt from the swanky Regal Beverly Hotel allegedly signed by one John Milton. Note the handwriting, it does not belong to him. Who does it belong to? Easy, his lover..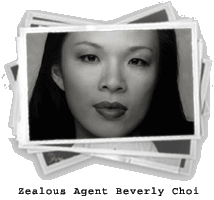 Also, if you look at the date, it's just two days before Fred Rifkin was fired from Stab 3 by John Milton and Don Crosby. Coincidence, I don't think so. How do we know who's handwriting is on the hotel bill? Here, you will find a letter addressed to development guru Helen Combs at Sunrise Studios from Beverly Choi at Zealous, Inc. Does the signature look familiar? It should, Beverly signed both documents. She has indeed been romping with Milton.
It's nice to see an agent work overtime for their client, isn't it?
Chapter Four: The Empty Chopping Block

The Empty Chopping Block: Why Chief Stevens Is Wielding His Knife Outside The Kitchen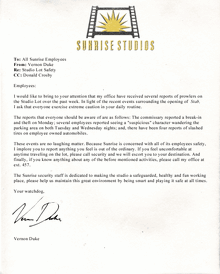 You will find that all is not as it seems in the Executive tree at Sunlies Studios. Commissary Chef Martin Stevens is hiding a very big secret from the world. What secret could a Chef have, you ask... Well, he is none-other-than the father of Phil Stevens, one of the victims in horrible slayings during the infamous Cincinnati Stab preview screening. Yes, that's right, a Sunrise Employee's son lost his life because of a Sunlies flick!
Here I will show you how Martin Stevens tried to avenge Phil's death only to be thwarted by Sunlies security guru, Vernon Duke, and swayed by the powers of Don Crosby's money.
By reading an internal Sunrise Security Memo and a subsequent top secret Sunrise Security Report you will learn about how there was a rash of vandalism immediately following Phil's death with promises of much more sinister activities to come.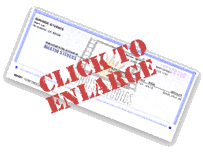 According to these documents, Martin Stevens stole his own knives from the commissary and threatened Sunlies sleazeball Don Crosby through a series of violent incidents that could have escalated into much more if not for the swift investigation by Vernon Duke. It's a shame that the sleaze factory acted so quickly. Evidently, when the Studio discovered Martin's personal involvement in the preview screening murders and his subsequent revenge tactics Crosby paid Stevens off to keep him quiet about his links to the murder. The sleazeball was less concerned with Martin's grieving than he was with keeping the idea that some sicko might be targeting employees of Sunlies under wraps.
In the following evidence, you will also find a copy of the check that the studio issued to the chef for $400,000 to keep his story quiet. I have a feeling that after people read this, it won't be quiet for long! You hear me Gale Weathers? Regardless of the cash that Sunlies bestowed on Stevens, many feel that he is still a "loose cannon" (Vernon Duke's words) who could go off at any point. With his handy knowledge of knives and his vendetta against the Studio, he is threat to them and, of course, to the upcoming production Stab 3. It seems that he was watched with a very close eye duringStab 2's creation and release and went without incident. But, you still never know when someone who's still angry might blow! Could he be a threat to the sleaze factory's latest hit? Only time will tell.
If you check out the latest installment in John Milton's producer notes on the Stab 3 page in the Trilogy section of Sunrise Studio's website, you will find evidence that time might already be telling as there are several suspicious events surrounding the commissary.
Chapter Five: Vanishing Acts
Few people know that Sunrise Studios spends about as much time covering up scandals as they do making movies. The 1970s were especially sordid, when nobody was "square" and everybody was in a love triangle or two. Everybody knows the stories of young women who arrived in Hollywood with dreams as big as their breasts, determined to do anything for a chance to be the next starlet. And of course, producers and directors at all the major studios were happy to exploit their naïveté. But Sunrise was different: some of their women disappeared.
The first incident occurred in 1970 on the set of Is Somebody There?. Beautiful young starlet Elaine Varsi had been cast in the role of Pam, a sexy cheerleader who is stalked by a killer in the woods. Strangely enough, Elaine disappeared during the first week of shooting and was never seen again.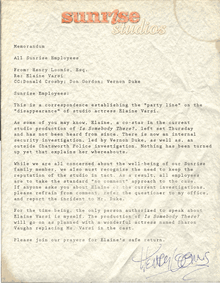 As an actress, lovely Elaine had caught the eyes of many Hollywood leading men, but her big break had really happened in the bedroom of Don Crosby, head of Sunrise Studios. While Elaine's life at the start of shooting the film seemed almost perfect, I have uncovered a diary entry that tells an entirely different story.
Click below to read a caption from her journal- you'll find evidence of a scared, vulnerable and shaken young woman who feared for her life. More important, the entry provides credible evidence that Don Crosby could very well have been involved in the starlet's mysterious demise.
There were no leads on her whereabouts and no signs of any wrongdoing, but the Studio was quick to cover up the incident in the press. It's no surprise that Don Crosby took charge of the situation and gave strict orders to his employees not to talk to anyone about the case. Even worse, the young woman had only been missing two days before the studio replaced her with a new actress. Click here to check out an internal memo containing the Studio Chief's strict orders to keep silent.
An even more mysterious incident occured in 1972 on the set of the box-office disaster Shutout!, when another beautiful actress, Loretta Fisher, vanished from the set in the middle of shooting her scene!. Click here to read about her bizarre vanishing act in an article from the Hollywood Informer.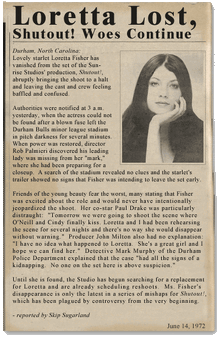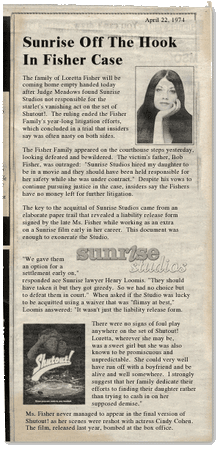 There were no suspects and no leads in the case, and Ms. Fisher was never seen or heard from again. Her family, however, was determined to hold Sunrise Studios responsible for their daughter's disappearance (and rightly so) and sued Sunrise. The case took one year to resolve but the sneaky Studio managed to escape the blame when their lawyer, Henry Loomis, found a legal loophole. Click here for the Hollywood Informer's report on the end of the trial.
Most interesting to note, however, is that Sunrise lawyer Henry Loomis parted ways with the Studio the very next day after the case was closed. Rumor has it he left Hollywood for good and set up his own private practice in a small Midwestern town: Woodsboro. Is there a connection between Loomis' arrival and the legacy of the ill-fated community that eventually spawned the Sunrise hit Stab Series? More on that later....
Chapter Six: More Sunlies

For further proof on the evidence presented above check out the following on Sunrisestudios.com: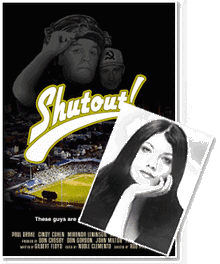 Bring up Shutout! on the studio's filmography and you will find that the bums at Sunrise make no mention of Loretta Fisher at all. One would expect some sort of a tribute to the actress at the very least. The studio is obviously pretending that she never existed at all because it has something to hide.
Check out The Path to Gold in the studio's filmography and you will find that Elaine Varsi receives no tribute for her work in the Sunrise film. One would think that a studio with nothing to hide would put a photo of her in the Actor's Biography section of their website. You can look at Willis Goldner, another fallen Sunrise star, and see the tribute that the studio gives him.

It smells like a cover-up to me.
For Martin Stevens' revengeful ways check out mention in John Milton's Diary - entry Day Thirty-Eight - of some strange, fatal "accidents" in the commissary. I believe that Martin Stevens is behind these events. Especially, since Hawken Jones, DP from the Stab films, died on his watch. Perhaps, Martin blames Hawken for his son Phil's death.
For further proof on the evidence of SunLies Studio's dispicable and horrific ways presented in my first entry check out the following on their website Sunrisestudios.com-
In John Milton's diary, you will find hidden within the "Day Thirty" entry a very special love message to Beverly Choi. He calls her the best agent in the industry. Anyone in the know understands that this is a crock of you know what. Only a lover would say such a thing in a public setting. This entry further proves my theory that Milton and Choi are rolling in sack together. What a disgrace! 
Chapter Seven: Suspect Map

1. Sidney Prescott is the daughter of the late Maureen Prescott and Mr. Prescott.
2. Billy Loomis (dec.) was the boyfriend of Sidney Prescott in Woodsboro. 
3. Billy Loomis (dec.) murder Maureen Prescott because of her alleged affair with his father, Henry Loomis. 
4. Henry Loomis allegedly had an affair with Maureen Prescott.
5. Cotton Weary had an affair with Maureen Prescott and was falsely convicted of her murder. Subsequently, his conviction was overturned.
6. Mrs. Loomis (dec.) was the mother of Billy Loomis (dec.)
7. Mrs. Loomis (dec.) was the ex-wife of Henry Loomis. 
8. Mrs. Loomis and Mickey teams up for the Windsor College Murders. Their victims were Hallie McDaniel, Phil Stevens, Cici Cooper, Maureen Evans, Derek Feldman, Randy Meeks and two police officers.
9. Phil Stevens (dec.) dated Maureen Evans and they were killed at the Windsor College sneak preview screening of Stab.
10. Derek Feldman (dec.) was the boyfriend of Sidney Prescott before he was murdered at Windsor College. 
11. Hallie McDaniel (dec.) was Sidneyís roommate at Windsor College.
12. Randy Meeks (dec.) had a crush on Sidney College throughout high school and college.
13. Martin Stevens is the father of the late Phil Stevens. 
14. Martin Stevens is the commissary chef at Sunrise Studios.
15. Sidney Prescott has repeatedly assaulted Gale Weathers, author of The Woodsboro Murders and The Windsor College Murders. 
16. Gale Weathers dated Deputy Dewey. They broke up twice, however.
17. Tori Spelling played Sidney Prescott in Stab and Stab 2. 
18. Henry Loomis (before moving to Woodsboro) was the lawyer for Sunrise Studios. 
19. Don Crosby and Sunrise Studios paid Martin Stevens $400,000 after his son Phil Stevens was killed at a Stab screening. 
20. Harlan Kingsley is the illegitimate son of Don Gordon and Kathy Kingsley.
21. Harlan Kingsley and Michael Neithardt are best friends and are notorious around Hollywood for their hard partying lifestyle. 
22. Dusty Penn and Michael Neithardt fought on the set of Stab 2 and are professional rivals.
23. Dusty Penn is the ex-boyfriend of Hollywood bad girl Amanda Oxens.
24. Amanda Oxens now dates Stab Series writer Will Kennison. 
25. Harlan Kingsley is rumored to be John Milton's drug connection.
26. John Milton fought with Jerry Rapp's friend Tori Spelling so much on Stab 2 that she is not returning to the third installment.
27. John Milton and Jerry Rapp fought on Stab 2 so much that Jerry Rapp was fired from Stab 3: Return to Woodsboro. 
28. Roman Bridger replaced Jerry Rapp as director of Stab 3: Return to Woodsboro.
29. Roman Bridger is represented by Beverly Choi, super-agent for Zealous Entertainment. 
30. Beverly Choi and John Milton are allegedly having an affair. 
31. Alice Withers (dec.) was Don Gordon's assistant when she was found murdered at Don Gordon's estate. The crime was unsolved and the killer remains at large. Don Gordon was also found dead from an apparent suicide on the same day. 
32. Dusty Penn was the first person to discover the dead bodies of Alice Withers and Don Gordon. Though he has not been charged in the case, he has never offered an explanation why he was at the estate that day.
33. Elaine Varsi was having an affair with Don Crosby when she disappeared from the set of Is Somebody There?. 
34. Loretta Fisher disappeared mysteriously during the shooting ofShutout!
35. Henry Loomis successfully defended Sunrise Studios in a lawsuit by Loretta Fisher's family over her disappearance. 
36. Gale Weathers' relationship with Sunrise Studios is damaged.
37. Billy Loomis and Stu are the Woodsboro Murderers. They killed: Arthur Himbry, Casey Becker, Steven Orth, Tatum Riley, and Kenny Jones. 
38. John Milton owes Gale Weathers significant, outstanding cash for the rights to her two books.
39. Mr. Prescott does not like how Sunrise exploited his daughter's story and how the Prescott family has never received any cash for theStab films. He is protesting all Sunrise projects.
40. Sidney Prescott hates Sunrise Studios for continuing to open her wounds and air her dirty laundry.
41. Amanda Oxens and Will Kennison hate Gale Weathers because of the negative press she airs about them.
42. Martin Stevens may useStab 3to avenge his son's murder. 
43. Angelina Tyler food-poisoned other contestants in the casting competition for the role of Sidney in Stab 3. She might have a very important reason to be in the film.
44. Vernon Duke believes Martin Stevens got away with crimes on the studio lot and should be punished.
45. Michael Neithardt is upset because he is no longer playing Cotton in the series. 
46. Sarah Darling dumped Michael Neithardt after she landed a role in Stab 3. 
47. Tabloids report Sarah Darling and Tom Prinze have been seen around town together. 
48. Will Kennison and Jerry Rapp were not getting along because of conflicts over the latest script. Rapp blames the writer for his getting fired off Stab.
49. Harlan Kingsley and Amanda Oxens were expelled from an elite L.A. prep school for their involvement in a drug ring. 
50. Tyson Fox is rumored to be the illegitimate son of Don Crosby. Rumor has it that Crosby paid for Tyson's upbringing after he impregnated actress Letisha Yanci on the set of Frankenpimp.
51. Sidney Prescott's testimony in her mother's murder trial sent Cotton to prison.
Ad blocker interference detected!
Wikia is a free-to-use site that makes money from advertising. We have a modified experience for viewers using ad blockers

Wikia is not accessible if you've made further modifications. Remove the custom ad blocker rule(s) and the page will load as expected.